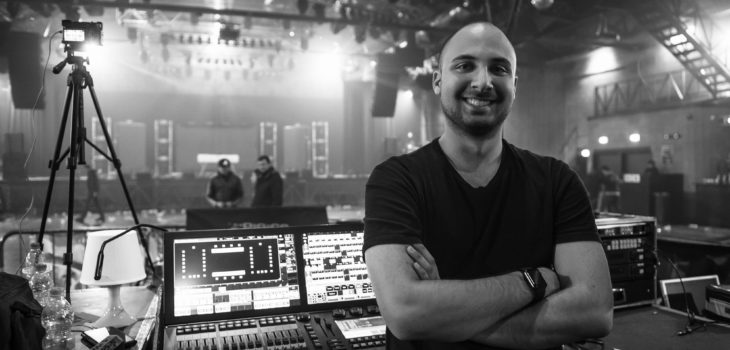 This month, PLSN is proud to introduce Jacopo Ricci, a talented man from Italy who only turned 25 a couple months ago. He had a mutual friend send me some images of his work with a popular pop song/rap artist by the name of Fedez. Federico Leonardo Lucia released his debut album in 2011 and has been networking his way to fame in Europe ever since. With releases of albums, mix tapes and all sorts of media the artist has gained some exposure as well as heading on tour recently with a highly touted visually stimulating performance.
Jacopo may have turned 25 only recently, but he has been designing for four years. He attended a science-oriented high school, then went to University to study Electronic Engineering before dropping out to pursue his dream of becoming an LD / show designer. We asked him how he hooked up with this artist, one who is playing large festivals and arenas.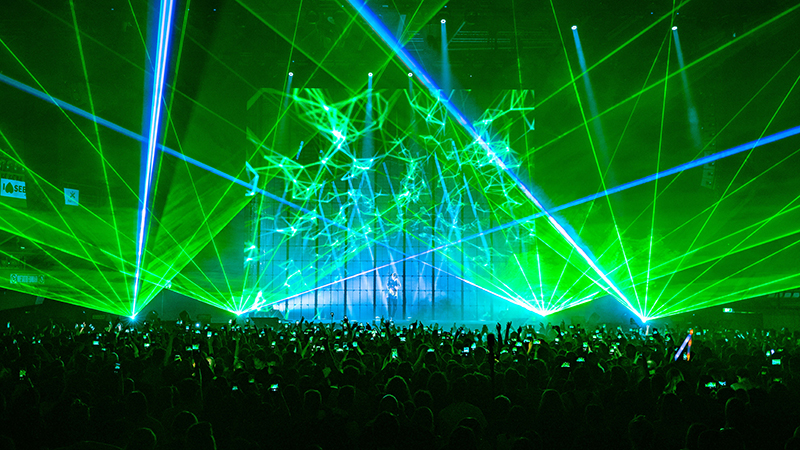 Kvant lasers add to the full effect for a Fedez show
Uber Eats and Sleep Deprivation
"It's the first time I have designed for this artist. Fedez personally contacted my partner in this project, Lorenzo de Pascalis. Lorenzo is also Italian and works for Martin Garrix as a video designer. At first, they just wanted Lorenzo to take over the visual side since they already had a rough lighting and stage design in mind. But Lorenzo looked at me and was like, 'We should just jump on to this full throttle and design the whole production together.' And after 48 hours of Uber Eats and sleep deprivation, we sent the pitch board (that ended up being the final one) to management."
At that point in time the duo still didn't know any of the songs, so they created this 60-plus-page PDF based on the story that Lorenzo wanted to tell through the visuals, but not tied to any song in particular. The document contained everything from lighting and video to laser, automation, pyro cues, cameras positioning and where the artist is supposed to be at any given time during the show.
Jacopo adds to this, "A key part of this phase was the direct communication we had with the artist without anyone interfering. We discussed the story board with him, and he built the setlist based on our creative vision of the show, adapting his discography to the moods we wanted to set throughout the show. Then we split the workload and each of us sat down with every department on rotation and built all the other bits that make the show while still working on our own departments."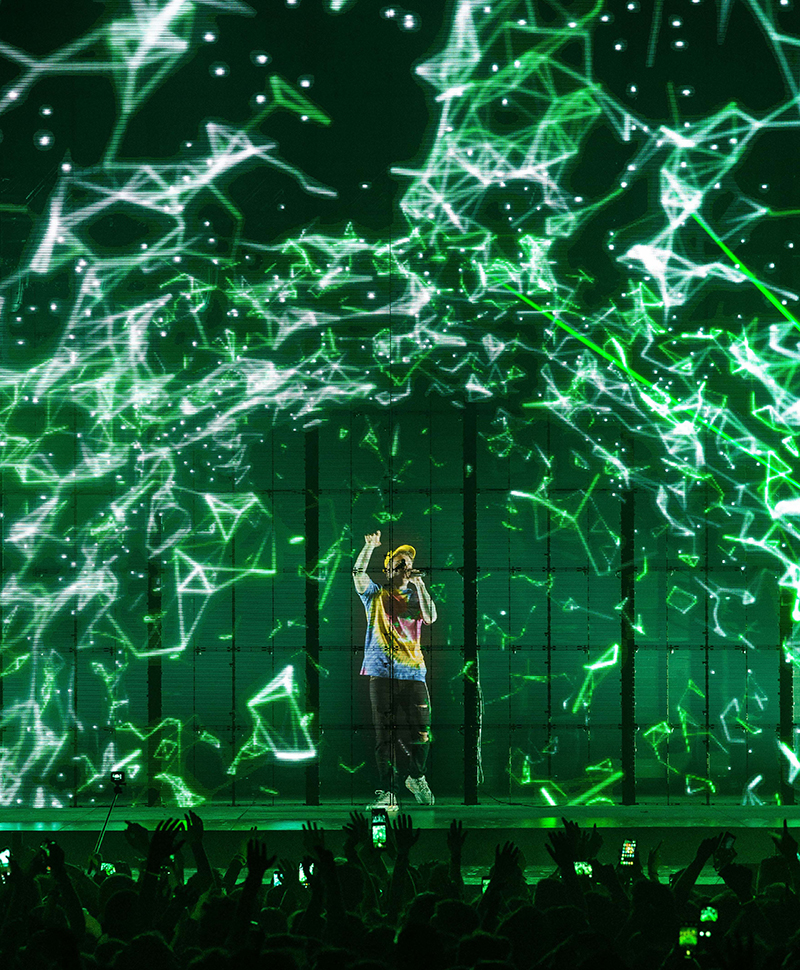 The artist is immersed inside a cube of video
Magical Video Elements
The show includes a rear video wall made of WindLED UltraWave 9 that is solid. Downstage of the artist at times is a Crystal Outdoor 3.9 Pitch horizontally and 7.9 Pitch vertically LED product that allows the performer to be seen behind when he's lit correctly. The LD explains how that came about. "Management showed up with a very rough idea that, in our opinion, wasn't so optimized and versatile. One aspect of their idea that caught Lorenzo's attention immediately was this awesome blow through LED screen that the video provider (STS Communication) had just bought. We redesigned the stage around this LED screen they wanted to use.
Dual video walls get used in a visual interplay
"Having a see-through LED screen is something we liked, because every visual with a lot of negative space makes it look like it's floating in mid-air. This would let us create effects around and in front of the artist while still being able to see him and/or blend him with the visuals at our pleasure. Lorenzo then made the most out of that screen, masterfully balancing custom content with interactive Notch contents that react with the artist through the use of BlackTrax and nine camera feeds. Notch effects were programmed by the wizard Marco Martignone, another Italian guy and close friend of Lorenzo."
The downstage LED split and tracked off stage at times. "Lorenzo really wanted to use cameras on this show to unleash Notch at its full power, so I pitched him the idea to have the downstage wall split in half to be used both to put the artist in an interactive cage or as side I-Mag."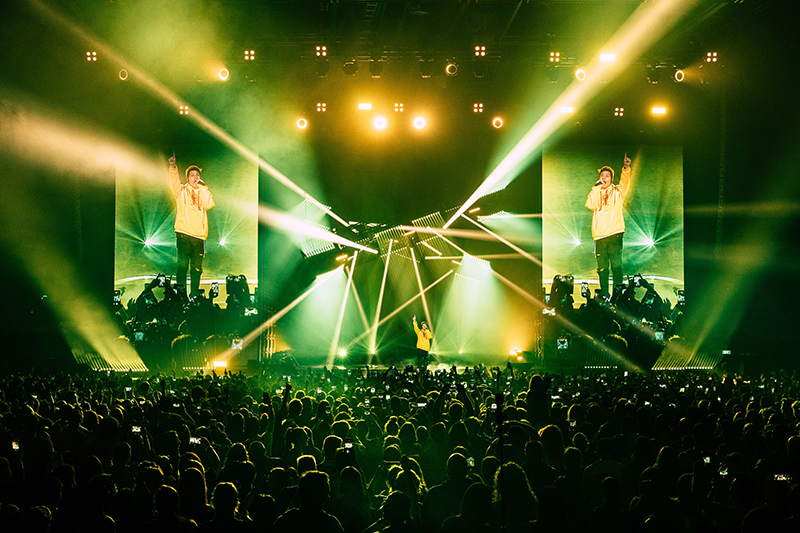 DTS Katanas cut blades of light
Overhead Beams and Strip Lights
As for his choice of lights, he had plenty of overhead beams as well as strip lights. "Lighting wise, I spec'd 36 moving battens. I asked for the GLP models, but they were out of the warehouse, so they proposed an alternative called Katana, made by an Italian company called DTS. Coming from a TV background I'm not new to DTS products but I rarely see them when I'm touring. I gotta be honest, after using the GLPs I was kind of skeptical about using a substitute, but DTS didn't let me down and they were 100 percent up to the standards I was expecting. At first, I asked for all MegaPointes and Solaris Flares, but because of availability issues I went full patriotic with 50 Claypaky Mythos 2, 30 Claypaky B-Eye K20, 37 SGM Q7 strobes and 20 Robe Pointes. For lasers we had six Kvant Spectrum 20 RGB heads," Ricci added.
Regarding the K20s, "I need to preface that both Lorenzo and I are very picky when it comes to washes. We hate to see frying pans (that's how we define them in Italian) hanging from trusses. I tried to minimize this by taking advantage of the zones the B-Eye has, so you'll never see the whole circle on at the same time. Also, the built-in beam shaper (that I basically used as a gobo) works way better when it's used on specific zones instead of the whole thing. I also used the pixel engine a couple of times, but that's another thing that we both think must be used with taste and not just for the sake of using it.
"Last but not least, I have two pods on Kinesys inside the cube that are equipped with Katanas, Pointes and Q7s, plus a remote camera for Lorenzo. We used them to change the volumetric space when the cube is closed and to create interesting shapes when the cube is open and they're visible to the audience, while still maintaining the ability to make them suddenly 'disappear' midair in certain parts of the songs just by turning them off."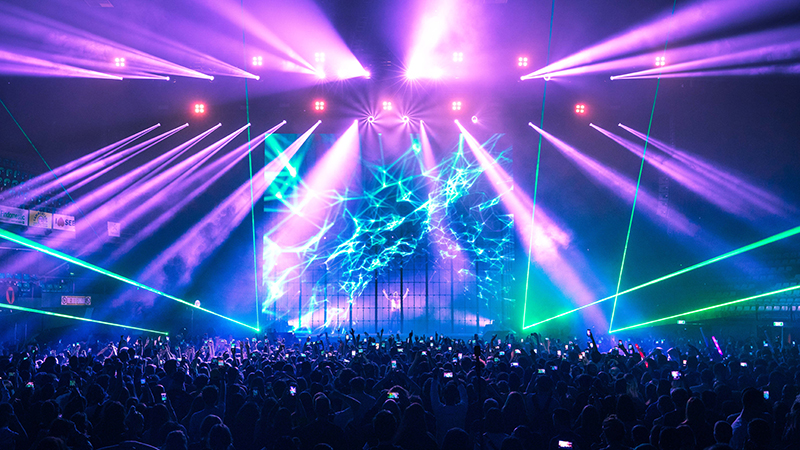 Jacopo went with an all Italian light rig
Lighting and Video Control
Jacopo programmed the show at home with an MA2 Light in MA3D with custom 3D models. "We have two MA2 Light on tour, one as a main, one as a tracking backup. The disguise media server is controlled via two MA3 Light [consoles]. The whole show is running off of timecode, including lasers and pyro," he says.
"For driving the content, we are using the disguise 4×4 with four VCF DVI Cards outputting 13 Outputs each. The content was directed and designed by Lorenzo himself together with a team of animators from different parts of the world, including Twenty Third C in London, Teun van der Zalm in the Netherlands, Akral and K1 lab in Italy and Darrion Granieri in the U.S."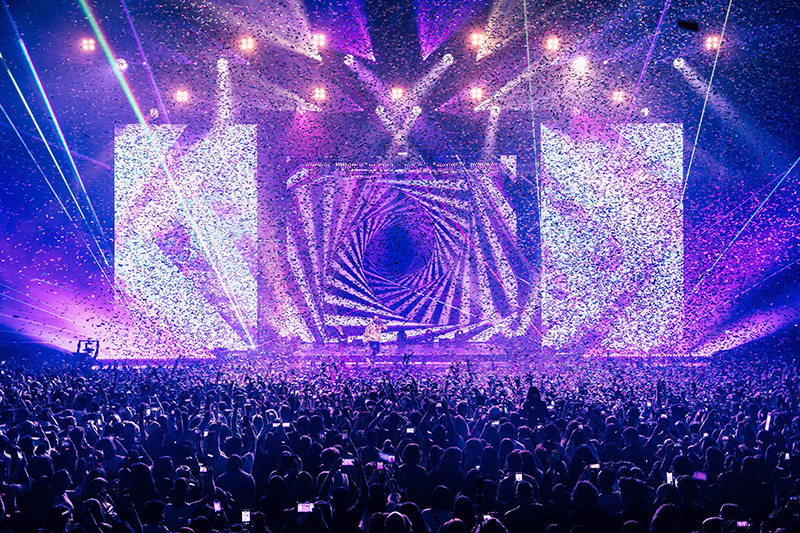 Getting the party going
Automation and Vendors
When asked about the automation being used, the LD tells us, "All the automations (the pods inside the cube and the downstage wall) are Kinesys-powered, with rigging and operators provided by RigMeUp, an Italian company from Rome."
As far as vendors on the tour, Jacopo explains, "We went with Mister X for lighting, STS Communication for video and BOTW for BlackTrax. We gotta admit that even though we didn't directly choose them (the client already had a close relationship with all of them), we had a great synergy with every single member of the teams from preproduction all the way to the first show, without a single issue at any point."
The B Stage is placed right behind FOH. "We used nine Jarags, some par 64s and eight more Katanas. We were looking for a very clean and 'easy' look for that part of the show, when the crowd sings along and he's in the middle of the arena. It almost gets emotional when all those conventionals come to life," he notes.
"It was a very organic design process across the board, where I was giving inputs for the visuals to Lorenzo and he was giving me hints and ideas to develop the lighting design while we both were busy building the other bits of the show."
In summing up the whole design and programming process, "It was a great learning curve for both of us, doing this while in LA, locked down in an Airbnb with laptops and beers. It was also a lot of fun and super inspiring. At the end of the day we're just two friends having fun."
Fedez wraps up this leg of his Italian tour mid April. He has dates booked into 2020 already.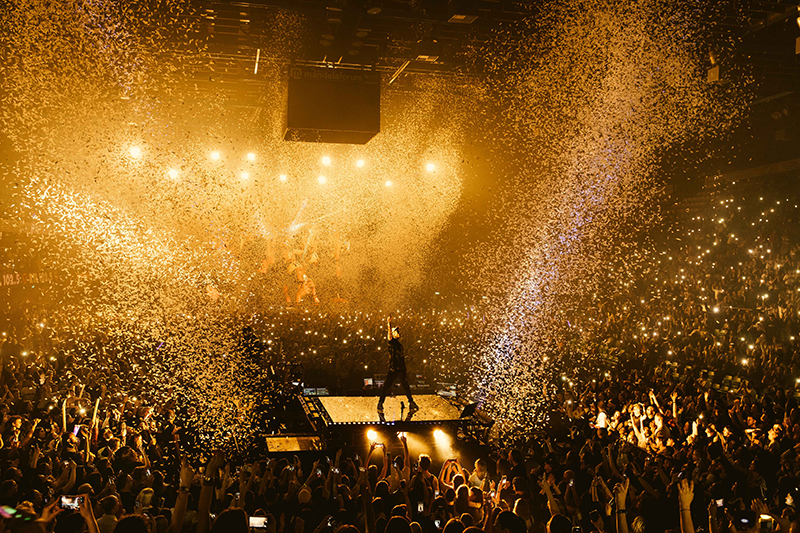 The B stage gets lit with old school Tungsten
We at PLSN salute you Jacopo, for doing some incredible work with this artist. At the age of 25, you are truly inspiring to all of us and are someone to watch out for in the future. A true Next Generation Parnelli candidate for sure.
Source: PLSN.com